Vitamin A
Vitamins are substances that play an essential role in human metabolic processes, but which human cannot synthesize (except vitamin D). Small amounts of vitamins are essential for the regulation of all bodily processes. Vitamins must be obtained from the food on a daily basis. A person's diet must provide all the necessary vitamins. In their absence people develops certain deficiency diseases or other abnormal conditions.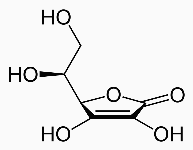 Figure. Vitamin C Struture
Vitamin C is required for the synthesis of collagen, an important structural component of blood vessels, tendons, ligaments, and bone. Vitamin C also plays an important role in the synthesis of the neurotransmitter, norepinephrine. Neurotransmitters are critical to brain function and are known to affect mood. In addition, vitamin C is required for the synthesis of carnitine, a small molecule that is essential for the transport of fat to cellular organelles called mitochondria, for conversion to energy.

Recent research also suggests that vitamin C is involved in the metabolism of cholesterol to bile acids, which may have implications for blood cholesterol levels and the incidence of gallstones.

Vitamin C is also a highly effective antioxidant. Even in small amounts vitamin C can protect indispensable molecules in the body, such as proteins, lipids (fats), carbohydrates, and nucleic acids (DNA and RNA) from damage by free radicals and reactive oxygen species that can be generated during normal metabolism as well as through exposure to toxins and pollutants (e.g. smoking). Vitamin C may also be able to regenerate other antioxidants such as vitamin E.
Severe vitamin C deficiency has been known for many centuries as the potentially fatal disease, scurvy. Symptoms of scurvy include bleeding and bruising easily, hair and tooth loss, joint pain and swelling. Such symptoms appear to be related to the weakening of blood vessels, connective tissue, and bone, which contain collagen. Early symptoms of scurvy such as fatigue may result from diminished levels of carnitine, needed to derive energy from fat, or decreased synthesis of the neurotransmitter norepinephrine. Scurvy is rare in developed countries because it can be prevented by as little as 10 mg of vitamin C daily .
Foods contain large amount of Vatamin C include citrus fruits, green vegetables, fortified cereals and potato. Vitamin C is water-solubale.